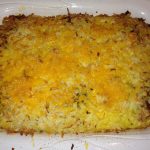 I'm the cook in our house and I usually make breakfast every day. Typically, it's the traditional bacon, eggs, and hash browns route. Sometimes it's breakfast tacos like bean and cheese, bacon egg and cheese, chorizo egg and cheese, or even bean and cheese. Other times it is waffles or pancakes and bacon and eggs.
Lately, I've been a little bored eating the same breakfast day in and day out and I was looking for a way to make it different. I had some biscuits that I wanted to do something with but I didn't want to just do bacon, eggs, hash browns, and biscuits (at least not separately). I found this recipe and decided to give it a shot. It was simple and hearty and makes great leftovers for a few days.
I did make a few changes to the recipe to suit my taste. I added about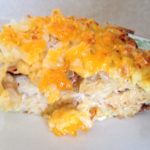 3 table spoons of sour cream to egg mix and used milk instead of heavy cream. I didn't use as much sausage as the recipe called for but used about 8 oz instead. I also used Tony Chachere's Original Creole Seasoning instead of salt and pepper. I cooked it for about 45 minutes instead of 30-40 and then I turned the broiler on to crisp up the top layer of hash browns for about 5 minutes.